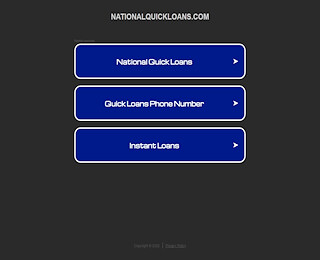 If you are looking for short-term loans in Florissant, make National Quick Loans your first choice. We are the most-trusted local lender providing cash when people need it most. We accept in-store and online short-term loan applications in Florissant and St. Charles as well as the entire St. Louis area.
National Quick Loans Provides Short-Term Loans to Solve Short-Term Problems
In times when people are short on money or in-between jobs, it's great to know that there are short-term loans available that can help them make ends meet temporarily. Whether a person needs cash for a special occasion, unexpected bills to pay, emergencies, or whatever else people need fast cash for, National Quick Loans provides a discreet and easy way to for people to get cash quickly without it affecting your credit history. Learn more by contacting National Quick Loans right away!
Don't Be Too Proud to Ask for a Loan
If you find yourself in a tough spot and need quick cash, don't be ashamed! These types of things happen to people every day all over the country, especially in today's tough economic climate. National Quick Loans was started to help everyday good people who may be in a money pinch to get the money they need from the convenience and comfort of their homes or offices without having to take time out of their busy schedule to run to some seedy loan company and stand in long lines, or, better yet, to get to the place to find out they've already closed for the day or they're out of cash.
While National Quick Loans has four locations in Florissant and St. Charles, we also accept loan applications online. In that sense, we never close! Indeed, online short-term loans in Florissant are on the rise, but borrower beware!
Be Careful Who You Borrow Money from!
They are lots of shady lenders on the World Wide Web looking to take advantage of people who are already going through rough times. This is just plain wrong! Our solution to this problem was to start a lending business that accepts loan applications online and operate in a trustworthy, fair, honest, transparent way and be entirely upfront about the cost of our short-term loans in Florissant and St. Charles.
What if I Need a Loan Extension?
National Quick Loans will allow you to extend your loan if you are not able to pay it back right away. Of course, it costs a little bit more to extend a loan, but National Quick Loans assures you that you will always know your full costs up front. We discourage extensions, but we do make them available should you ever need them.
Let Us Help You
At National Quick Loans, it doesn't matter whether you have good credit, bad credit, or no credit at all because there are no credit checks required to borrow money from us. We also offer same-day cash, quick approval, and competitive rates, making National Quick Loans the only practical choice for short-term loans in Florissant.
Short Term Loans Florissant
National Quick Loans - W. St Charles
8337884853
3122 West Clay Street, St. Charles, MO 63301
View Larger Map