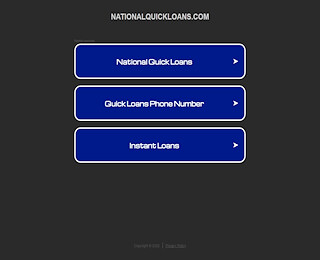 Get a no credit check cash advance in MO at National Quick Loans and stop worrying about your current financial issues. If you need money immediately, we can help, with a fast & easy application process and same-day cash in your bank. Pay off the loan over time, as per our agreement, or pay it off early with no pre-payment penalties or fees. We make it simple to apply online if you aren't able to come to one of our Missouri offices.
We Approve Loans Without Checking Your Credit
If you thought past credit history would prevent you from being approved for a loan, think again. We lend money based on your ability to repay, so it's not about anything that has happened in your past finances. Our goal is to quickly and efficiently approve you for a no credit check cash advance in MO when you provide proof of income with your application. You'll also need a valid US government photo ID, a checking account, and a working phone number.
Why Choose National Quick Loans?
We know you have many options when looking for a loan. At National Quick Loans, we work hard to provide superior service by offering Missouri residents quick & easy short-term loans with the following amenities:
Competitive loan rates
Fast approval of your application
Same day cash
Mobile application process
No credit check required
Need Assistance With Your Application?
A National Quick Loans assistant would be happy to help you complete the application process over the phone when you call one of our Missouri locations. If you prefer, stop by an NQL office in St Charles, Florissant, or St Louis, MO. If you opt for one of our store locations, be sure to bring along documentation of your income as well as checking account information and your photo ID to speed up the process of your loan approval.
Need Money Fast?
We can get your money to you in about 24 hours- often the same day that you apply. Your privacy is important to us, so we'll never ask why you need a loan. What we will do is ensure you have a safe and convenient way to pay off bills, get out of debt, pay on credit cards, prevent bank overdraft fees- or even take a short-notice vacation. We can help you take control of your finances and reduce the stress you're experiencing from being short on cash.
Improve Cash Flow
We improve the quality of life for clients who look to us for a no credit check cash advance in MO. National Quick Loans solves financial problems with immediate cash loans you can pay off over time or pay back all at once without worrying about penalties for pre-payment. Why go anywhere else for the cash you need when we make it so easy to apply- and get approved? Submit your application right over the Web or stop by one of our Missouri locations for an instant approval.
No Credit Check Cash Advance MO
National Quick Loans - W. St Charles
8337884853
3122 West Clay Street, St. Charles, MO 63301
View Larger Map